Day in the Lyfe Graffiti Magazine's Online Blog
Updated daily with graffiti, street art and original photography from around the world.
Tag: street art
Jul24
May17
Apr
17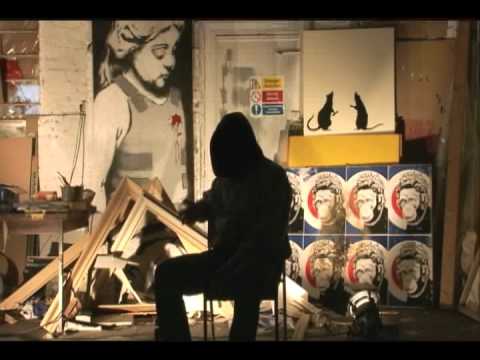 That's right folks your favorite graffiti movie of all time Day in the Lyfe has made a surprise cameo in this extended trailer from Banksy's Exit through the Gift Shop.  Look for the clip at :37 seconds of ANTHRAX tagging with a burning can!
By the looks of it Banksy's archivist has been scouring in the web looking for the best graffiti clips to add to their street art love fest.  We can only thank them for being fans of our shit.
Flickr Video
Original Footage
Dec
15
Another video I made for you.
Artist NohJColey uses the streets of New York City as his canvas. His latest work Sprayed N Stone is a tribute to three well known graffiti artists who passed away before their time. Tie was a San Francisco teenager who brought so much energy to the world of graffiti that artists across the country paid tribute to him when they learned of his untimely passing at 18. When you talk about Sace, all you can say was his whole life was art. Millions of kids lived vicariously through the photos that graced the pages of Vice magazines for years. He was just starting to be taken very seriously in the international high art world when he tragically passed this summer. And finally Iz the Wiz is an artist that inspired a generation, from trains to streets Iz was the definition of old school New York graffiti. NohJColey has created this tribute to these 3 artists to remind us of their contributions and to pay homage to those that provided inspiration.
This work is a linoleum print and acrylic wash on paper with seven color paper subtraction pasted on a metal wall.
Dec10
Oct
22
New York artist NohJColey has created a fitting tribute to 3 graffiti legends who are no longer with us.  His wheatpastes of artists Tie, Sace, and Iz have been turning up on the city streets.  It is rare that one artist takes the time to acknowledge the contributions of other artists.  Day in the Lyfe asked him a few questions regarding his new work.
DITL – What was it that drew you to these artists, Tie, Sace and Iz, and why did you want to create these tributes?
NohJColey – I felt like Sace, Tie and IZ each shaped the graff moment in their own individual way. Whether it be hangover pieces, humongous paint rollers or back to back fill in's they brought something to the graff world that separated them from other artist at the time. I created the tributes because I felt like when a person passes away people mourn but its not continuous. I wanted to remind people that these individuals need to be remembered for eternity. 
DITL - What kind of response have you got from friends of the writers and the public in general?
NohJColey – I have gotten some remarks like "why is a street artist doing portraits of graff artists." Overall I think everyone likes them and the graff writers that I respect seem to love them. 
DITL – We mentioned other artists that tragically passed like Nace, and Heist, any plans to make more tributes?
NohJColey – Yeah, I'm definitely going to continue this series. The continuation of the Sprayed N Stone series will be called Buff Resistant. I'm not sure when I will begin to work on it but I'm pretty sure it will be mid 2010 sometime. I really want to dig threw pictures the next time around.
DITL – I was talking with Specter today, and coming from a solid graff background, he didn't feel that there was a difference between the graff lettering and the street art that he produces. Because you share a similair graff background do you share his opinion on the artforms?
NohJColey – I think it's all based on aesthetics. Some people fell that quantity is better than quality. If you look at Specter's work in general it's more about quality versus quantity. 
DITL – In an average day in your lyfe, how much time do you spend focused and creating your art?
NohJColey –  Honestly, twenty-four hours a day. I woke this morning and finally had an answer to a design question I had for weeks.
Check out more of NohJColey's artwork on his Flickr.