Day in the Lyfe Graffiti Magazine's Online Blog
Updated daily with graffiti, street art and original photography from around the world.
Tag: knox
Apr
17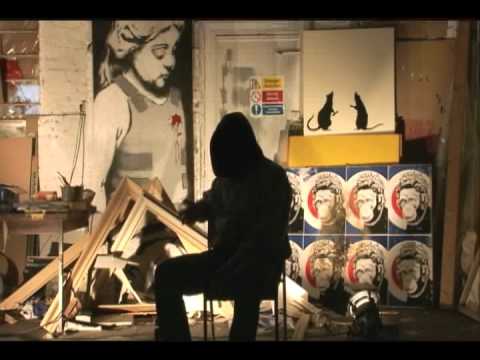 That's right folks your favorite graffiti movie of all time Day in the Lyfe has made a surprise cameo in this extended trailer from Banksy's Exit through the Gift Shop.  Look for the clip at :37 seconds of ANTHRAX tagging with a burning can!
By the looks of it Banksy's archivist has been scouring in the web looking for the best graffiti clips to add to their street art love fest.  We can only thank them for being fans of our shit.
Flickr Video
Original Footage
Dec
15
Another video I made for you.
Artist NohJColey uses the streets of New York City as his canvas. His latest work Sprayed N Stone is a tribute to three well known graffiti artists who passed away before their time. Tie was a San Francisco teenager who brought so much energy to the world of graffiti that artists across the country paid tribute to him when they learned of his untimely passing at 18. When you talk about Sace, all you can say was his whole life was art. Millions of kids lived vicariously through the photos that graced the pages of Vice magazines for years. He was just starting to be taken very seriously in the international high art world when he tragically passed this summer. And finally Iz the Wiz is an artist that inspired a generation, from trains to streets Iz was the definition of old school New York graffiti. NohJColey has created this tribute to these 3 artists to remind us of their contributions and to pay homage to those that provided inspiration.
This work is a linoleum print and acrylic wash on paper with seven color paper subtraction pasted on a metal wall.
Dec
01
This is a scene from DAY IN THE LYFE: THE MOVIE!
If you don't know, I filmed this entire film 3 years ago.  For me, getting to meet all these writers was the most fun part of the whole journey.  Dr. Sex was a tough one to track down.  We had spoken on the phone a few times, and we were supposed to link up right after Santa Cruz.  Me and Don't Sleep cruised up the coast in his beat up old pick up, it literally was on its last leg.  I rented a hotel in San Francisco for the night and then cruised over to meet up with current.tv.  They were interested in buying some footage from me, but fronted in the end.  So we laid low and waited for the Doctor to come to town.  He never showed.  I was bummed.
We called Sex and he apologized for not making it through, he promised that next time we were in San Fran we would link up.  I didn't think it would happen.  So I flew back to the east coast and don't sleep kept on trucking up Portland.
A few months later, I got a piece of great news.  A film that I had produced was invited to a horror film festival in Modesto, which is about 3 hours drive outside of SF.  I booked my ticket for a day earlier than I needed to be out there and called up the Doctor to let him know it was time to film.  He was ready to go he said and I was pumped to film with him.  
When the time came I boarded the plane headed to SF, on arrival I called the Doctor and to my surprise he was not even in the state.  Shit.  We talked and I explained that this would be the last chance I had to get him in the movie.  He said no problem give him 8 hours and he would be there.  With some new found time on my hands and no clue what to do in SF, I rented a car and put the only destination I knew in SF into the GPS, the notorious intersection of Haight and Ashbury.  I cruised down the Haight and found a medicinal head shop, but I didn't have a license so I couldn't get any medicine.  No worries, there was a guy standing outside with the same stuff he guaranteed, so I gave him the green and a few minutes later he gave me the greens.  Check.
I went back to the car, rolled one up and with a new found energy I set out to get B-Roll of SF.  After filming street levels and rooftops, I stopped into a local video store to get some advice on a place I could go and get shots of the whole city.  I was told there was a great overlook.  Later that night I called the Doctor and he said he was on his way but still a few hours outside of SF.  
The Doctor was in, he made it to SF a little before midnight and we started shooting.  The first spot we did was the gas station, it was framed perfectly, the single light, the gas pump, to this day that is still one of my favorite shots ever.
We filmed all night, including a brief run into the BART tunnels, which had just been buffed.  I was dissappointed to not get a chance to view that piece of SF graff history, but you move on.  Now, I don't like to tell people what to do when I film documentary style, I much prefer to let them do what they want to just observe the process.  
After a whole night of filming, he had shown me just about every hollow he ever did, but I wanted to see the classic Dr. Sex.  The one that was everywhere in NYC, the one I had seen above so many billboards, the icon.  He turned to me and said you want to film one more spot, of course I said yes.  We headed to downtown SF, it was dead there this night.  That's when he walked up to that gate, with his first few lines I knew he was doing it.  I stood there and smiled, getting a chance to see one of my favorite throws up close and personal.
Nov
20
Sometimes I make music videos when I'm not filming graff.
Nov
07
While filming in Europe, The Lyfe team met up with La Bestia in Barcelona and watched him paint a portrait of his girl Kat in the middle of the day.
Oct
25
We've got a crazy week coming up at Day in the Lyfe.  Orders are being filed in preparation for the November 24th release date for the movie!  Rick Ross might stop by for an interview and this weekend we are throwing down with a special surprise at our Halloween party.  Are you ready?
Photo from Visualize This
Oct
23
Steve Rotman and Mark Batty Publishers present this truly spectacular collection of photos from the Bay Area between 2004 and 2008.  This book is a must have  and is end to end filled with of high quality photos of artists like Chubs, Apex, BNE, Ashes and many, many more.  From tags to burners, this book is a complete record of this important period of recent history.  Many of the photos offer a look inside the secret places that your average urban explorer would miss.  Its hard to put this one down.
We here at Day in the Lyfe had a chance to ask the author Steve Rotman a few questions about this project.  Enjoy.
1. What was it that first drew you to photograph graffiti? Were you previously a writer?
Steve: I was never a writer. I got into graffiti as a total outsider. Things got rolling in early 2004. I was wandering around San Francisco looking for murals to photograph and I came across some amazing graffiti productions in the Mission and Soma districts. They blew me away and got me curious. I started to read about graffiti's history and culture and aesthetics. I fell in love with the art and the mystery of it. By the end of 2004, I was obsessed and searching for graffiti to photograph almost every day. 
2. Did you use flickr to make a lot of contacts? Did it serve you well as you were developing this obsession?
Steve: Definitely. It's the most consistent way I'm in touch with the graff community. It's a great vehicle to share my passion for this subject and to connect with writers, photographers and graffiti fans. There's a very active and enthusiastic graffiti crowd on Flickr. It's fun to be a part of it.
3. At what point during this obsession did you realize you had to make a book?
Steve: After I'd posted graffiti photos online for a couple years, a lot of people started to suggest that I make a book. By then, I'd already collected thousands of photos and had become friends with people in the community, so it seemed feasible. Nobody had ever put out a book devoted to the graff scene in the Bay Area, so it seemed like a good opportunity to finally make it happen. At some point, I just decided to go for it. It took a couple more years to get a publisher and put it all together. With my outstanding collaborator, Chris Brennan, and a lot of work, we got it done. For as long as I've been shooting graffiti in the Bay Area, I've felt that this is a special and exciting scene with remarkably talented writers. It's gratifying to have been to able to preserve and celebrate that in a nice big book.
JOIN DAY IN THE LYFE, MARK BATTY PUBLISHERS, ABLETON and POWER STRIP CIRCUS THIS HALLOWEEN!
Come to the official Day in the Lyfe Halloween party at Coco 66 in BROOKLYN, NY!
Oct
09
Flickr aficionado Laser Burners brings us these hit and runs.  Hope no one got bagged.
Sep
30
UPROK MANG!  We had the pleasure of hanging out in Utah last winter when we were asked to show DITL the Movie during Sundance 2009.  Our host that kept life green and easy was Chase from UPROK.  His store has been one of the only spots holding down Salt Lake City and the surrounding 100 mile radius with top notch hip hop acts and the official painting supplies. They also enjoy painting on those beautiful Utah girls.  More on their FACEBOOK
Sep
30
True story.
More from Reginald Pean