Day in the Lyfe Graffiti Magazine's Online Blog
Updated daily with graffiti, street art and original photography from around the world.
Tag: graffiti singapore
May
21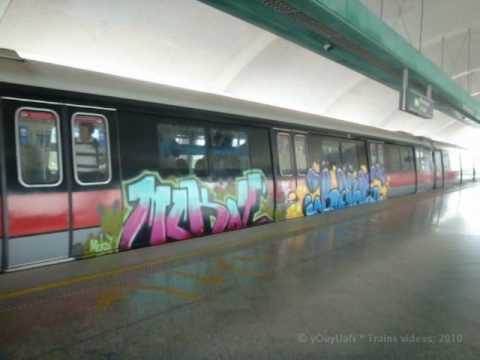 Check out some of  the comments, Graffiti has reached Singapore my friends!!!!
Haha! I saw this at Jurong when the train was passing
This consider as an advertisement train?
i dont think so. maybe just to create awareness.
Is this counted as full exierior? Train has a weird accelerating sound…
i don't think it is consider as full exterior. yeah this problem quite long already
banos killed it
I like how the station and the train are all so clean, then the pieces come into focus! hahah nice.. The person filming shoulda filmed the banos piece more tho. But thanks for showing, more people will fly over there and hit your trains now probably.
very nice artwork. Love it.. Hope to see more. PS) They wont be caught! Congrats to having running piece on your trains. Hope for more soon.
They got alot of courage to bomb in a strict country like that. Mad props!
BANOS!! Team Ironlak!!!
I don't think this is really an advert, it's more like vandalism because the metal part (under the doors) was also sprayed with the paint.
Wow!  Was this intentional or unintentional?