Day in the Lyfe Graffiti Magazine's Online Blog
Updated daily with graffiti, street art and original photography from around the world.
Tag: exit through the gift shop
Mar
06
Oceanside, CA – Banksy, an internationally known graffiti artist was the initial blame of last Friday's mural on the side of Bull Taco restaurant in Oceanside, CA. The mural was of Banky's famous rat flying a kite in the form of a familiar sign in San Diego, cautioning motorists of crossing immigrants on the freeway lanes.
Hundreds gathered to take pictures, videos, and be a part of history in the making.
Owners of Bull Taco say they will preserve the mural by spraying a clear coat protective liquid on the entire wall.
Banky's PR department have commented on this mural as not being the work of Banksy. However, many believe that this is in fact his work and the truth will surface on his website soon.
The following Monday a gold painted computer was left at the door step of Bull Taco. The monitor read "I don't Wanna Die". Those that witnessed this also believe this is a tie to the mural and a true work of Banksy.
Photos and article by James Freeman – 760-215-3654
Apr
17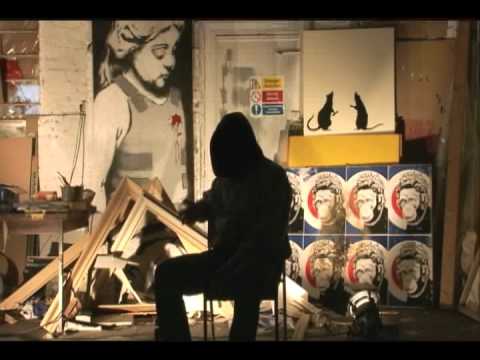 That's right folks your favorite graffiti movie of all time Day in the Lyfe has made a surprise cameo in this extended trailer from Banksy's Exit through the Gift Shop.  Look for the clip at :37 seconds of ANTHRAX tagging with a burning can!
By the looks of it Banksy's archivist has been scouring in the web looking for the best graffiti clips to add to their street art love fest.  We can only thank them for being fans of our shit.
Flickr Video
Original Footage