Day in the Lyfe Graffiti Magazine's Online Blog
Updated daily with graffiti, street art and original photography from around the world.
Tag: banksy
Dec
19
Banksy the Great
Some of the most incredible works of art aren't created and put up in a gallery. One of the most influential artists of our time cannot be found in any art gallery. His work can be found from the streets of England to taco shop walls in San Diego. Banksy's identity might be unknown to most, but his work makes him one of the most unique and unforgettable graffiti artists in today's society. His artwork reflects and addresses various social issues like war and poverty as well as art for corporate profit. He has done some dangerous projects, but in reality every time he sprays a wall, he is breaking the law. Not only does he break the law, but he also upsets and disrespects anyone who is guilty of commercialism and consumerism.  The fact that no one knows who the mysterious artist is also makes him that much more interesting. Banksy should never reveal his true identity to the public if he wants to continue on his road to success.
Banksy does all kinds of outrageous things to get his point across. In his movie "Exit Through the Gift Shop," he goes to Disneyland and sets up a blowup doll dressed as a Guantanamo Bay prisoner while Mr. Brainwash (a fellow artist) films and takes pictures of the whole thing. As outrageous Even though Banksy does strange things like this, he is best known for his stencil graffiti. Maybe you haven't seen the Drunk Mickey Mouse and the Minnie Mouse doing coke driving through Hollywood on a billboard, or the doctor listening to the heart in San Francisco, but you must have seen or heard about the wall which featured two kissing police officers in the U.K. or the stencil that features a man begging for change. His sign says' "Keep your coins, I want change." No matter what you have or haven't seen by the legendary artist, everything is amazing and has some kind of message behind it. He loves exposing truths about social issues like war, poverty, capitalism, privacy, government, and whatever else you can think of. Banksy has a way of incorporating humor into his work to address certain issues; the best example is something he did recently. It is a stencil of a young boy with a gas mask on holding a backpack. Next to him written in sloppy red paint says, "If at first you don't succeed- call an airstrike". Pieces like this could really get Banksy in some trouble or just anger the wrong people in general. This is another reason Banksy should never come out with his identity. If anyone knew who he was, his career could be over. He has broken the law on many occasions and doesn't seem to be stopping any time soon.
Banksy's mysterious identity has caused a huge uproar in the art world. Unless you are close to him or have worked with the artist himself, no one knows who he is. There have been many people who claim they know who Banksy is, but in reality, if they actually knew who he was they wouldn't be flaunting it to every news station that comes their way. Even though Banksy is anonymous, some things about him are agreed on. People say that he is from Bristol, U.K. and was born in 1974. He got involved in graffiti either in the late 1980's or early 1990's (Joseph). In 2008 a British newspaper released a story saying they "unmasked" Banksy. The Daily Mail came out with the article saying the myths of Banksy being an ex-butcher named Robin Banks and Banksy being a collective group of artists aren't actually true. Apparently the newspaper talked to "dozens of friends, former colleagues, enemies, flatmates, and members of Banksy's close family" to figure out who he was (Joseph). They claimed Banksy was just a regular old middle class citizen named Robin Gunningham. He lived with an artist who later did an exhibit with Banksy. Of course the newspaper could have faked some of this information, but really it doesn't matter. Honestly, even if they put a name to Banksy, that doesn't make his work any less remarkable. In an interview with fellow artist Shepard Fairey, (known for the creation of the famous Obama campaign picture and the OBEY giant), Banksy was asked if he would ever reveal his identity. He said he has no interest in ever coming out with his identity. He is, "just trying to make the pictures look good" (Fairey) instead of making himself look good. He said he doesn't need to be famous, but it also doesn't help that he has problems with the cops for all different kinds of vandalism charges. The news should have just left his identity a mystery, but news channels and newspapers will do anything for publicity. This may be one reason he moved to the United States. Banksy's work wouldn't be any less amazing if we knew he was, and if we did the police would probably charge him for his crimes immediately.
Banksy has also been known to make fun of and call out the fine art community. Galleries and art collectors are what Banksy makes fun of best. There is one illustration he did which features an art auction with people biding for a framed canvas that says, "I can't believe you morons buy this shit". This is attacking commercialism once again and even though it may be funny to some viewers, plenty of people find this offensive or even rude. Even though collectors buy Banksy's works, he is attacking the art world as a whole and the consumers. He is also known for creating his own artwork and hanging it in world famous museums. Although this is not an illegal act, it is a move to upset and mock the fine art community and its collectors. In one museum in Britain, he left a fake prehistoric cave like painting on a rock. The fine art community does not take kindly to this kind of insult. Banksy has offended plenty of people and if he revealed himself, people would not respond well from the fine art community.
Banksy is one of the most amazing living artists of all time. Banksy does crazy things, but there is always some type of message behind it. Whether he is adding his own work to a museum or beautifying a 425 foot wall, he has reason behind everything that spectators are left to decide for themselves. He tackles big issues like war and poverty. Even though his identity is a mystery, his artwork still inspires who I am as an artist today. The mystery and craftsmanship is what drive Banksy and his fans willing to seek out his art on the streets and in the gallery. He would have lots of legal issues if he ever came out with his identity. It would destroy the mystery behind his artwork and ultimately ruin his career.
thank you for your concidera
Works Cited
Fairey, Shepard. "Banksy Interview with Shepard Fairey." Prefuse – Independent Graffiti and
            Street Art Blog. Web. 16 Nov. 2011. <http://prefuse.net/banksy-interview-with-shepard-
fairey/>.
Joseph, Claudia. "Graffiti Artist Banksy Unmasked … as a Former Public Schoolboy from
Middle-class Suburbia | Mail Online." Home | Mail Online. Web. 16 Nov. 2011.
<http://www.dailymail.co.uk/femail/article-1034538/Graffiti-artist-Banksy-unmasked—
public-schoolboy-middle-class-suburbia.html>.
Mar
06
Oceanside, CA – Banksy, an internationally known graffiti artist was the initial blame of last Friday's mural on the side of Bull Taco restaurant in Oceanside, CA. The mural was of Banky's famous rat flying a kite in the form of a familiar sign in San Diego, cautioning motorists of crossing immigrants on the freeway lanes.
Hundreds gathered to take pictures, videos, and be a part of history in the making.
Owners of Bull Taco say they will preserve the mural by spraying a clear coat protective liquid on the entire wall.
Banky's PR department have commented on this mural as not being the work of Banksy. However, many believe that this is in fact his work and the truth will surface on his website soon.
The following Monday a gold painted computer was left at the door step of Bull Taco. The monitor read "I don't Wanna Die". Those that witnessed this also believe this is a tie to the mural and a true work of Banksy.
Photos and article by James Freeman – 760-215-3654
Apr
17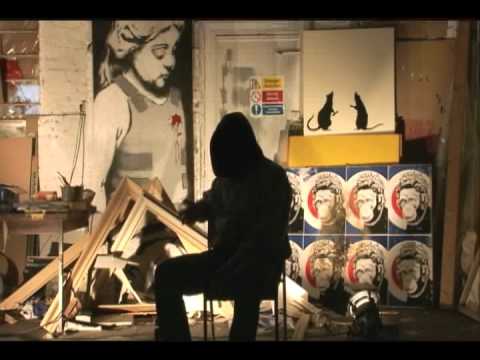 That's right folks your favorite graffiti movie of all time Day in the Lyfe has made a surprise cameo in this extended trailer from Banksy's Exit through the Gift Shop.  Look for the clip at :37 seconds of ANTHRAX tagging with a burning can!
By the looks of it Banksy's archivist has been scouring in the web looking for the best graffiti clips to add to their street art love fest.  We can only thank them for being fans of our shit.
Flickr Video
Original Footage