Day in the Lyfe Graffiti Magazine's Online Blog
Updated daily with graffiti, street art and original photography from around the world.
Painting
Oct
01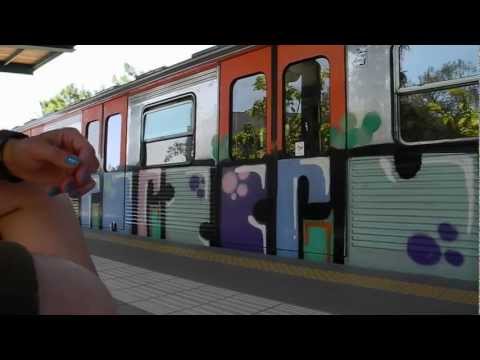 For more check out
Sep
06
In this latest video ELEMENT TREE / ART PRIMO present: FROM THE ASHES a video that features ELEMENT TREE official members THEN ONE, MR. MUSTART and DISTORT painting a Rising Phoenix piece in Jersey City. The video was filmed and edited by SERRINGE the theme is a representation of what is happening in downtown Jersey City with the art movement on the rise. The video was powered by ART PRIMO for the latest addition of the ELEMENT TREE / ART PRIMO video collaboration series.
May16
May16
May
07
FREAK SAFARI
By Robert Norris
4.19.2012
Terminal "A" at EWR is a sad place.  The whole building is practically sinking into the Hudson.  I have a bar stool in the corner it is my safe place.  Every time I get screwed flying out of this terminal I can at least take comfort in the fact that it is rarely busy and more often than not my stool will always be open.  This trip the bar has changed hands once again and is billing itself as some type of taco hut, who cares?  I plant myself at the rail, peruse the menu long enough to see that they make caiparinhas and settle in to make sure that when i am in a metal tube racing towards 35,000 feet above the Earth I will be good and lubricated.  Out of ten customers sitting at this shitty, love lost, weigh station for traveling salesman I am one of only two people not wearing a neck tie, I practically display this as a badge of honor.  There is nothing worse than working for the man.  My only compatriot is sitting too far away to properly revel in this fact but, the thought does cross my mind that he may not be all together himself and even if he is from around here we're already on the same page.  I am here on assignment awaiting my flight to Denver to cover the maelstrom that will happen in Civic Center Park less than 24 hours away and if God willing the Medi Cup at the Exdo Center the following day.
I do not use marijuana for any purpose at any time for any reason either medical or recreational.  That is not to say that as a young man living in trendy, up and coming, urban neighborhoods in cities across the northeast,  and on tour as a working musician I was not exposed to and afforded the opportunity to sample some of the fine products that were available.  Herbs with a name are not outside my realm of experience.  My contention is however that if i were to jump headlong back into the game, right now taking into consideration the potentcy and exactitude that certain strains have evolved into, there is a very good chance that the panic attack that followed would live on as ledgend for generations to come.  This is not the grass of the previous generation.  It actually is doing it a great diservice to even call it grass.  The majority of what is being consumed today is some type of mutant.  It is a highly concentrated, genetically modified, supergrass that after one hit will will leave the novice smoker or old head returning from hiatus in severe psychological distress, and after two hits could possibly lead to serious and maybe permanent brain damage.  The whole industry is bordering on something very near Thompsonesque.  The kids are getting higher and higher, younger and younger; they're eating junk food and drinking bong water and there is no one to stop them.  Not Nancy Reagan, not Edwin Meese, nobody!
I am speaking in hyperbole.  But there are very real detractors of what at one time was considered to be a cottage industry who let it slide,  but now that it is not just relegated to the "outskirts of town" will view what is happening all over the country, Denver being the current example as a direct assault on their politics and may send out the cry for a call to arms.  Twenty thousand freaks smoking weed in the street is kind of hard to ignore.  Lyfe had signed on in collaboration with Incredibowl for the 420 Extraviganja being held at City Hall after the rally CCP.  Live painting outside on the street featuring Gamma Acosta and Michael Ortiz and inside Yellow Wall Dub, Giant Panda Guerilla Dub Squad, Barrington Levy, and The Melodians just to name a few.
To be quite honest flying does not sit well with me.  If the good people at Tanqueray did not make their product available to airlines their is very little chance that I would ever fly as much as I do.  This being said it is no surprise that after leaving Newark at 5:30pm the next really clear memory I have is opening my eyes layed out on the sidewalk; legs contorted around the crossbar of a borrowed bicycle, cheek scraping the the concrete, camera and cigarettes littered around me, bleeding from the knee, on the edge of a train yard at 3:00am in the Colorado wilderness.  Kevin, the founder of Lyfe and one of my oldest friends was standing over me.  As a professional embarassment is not something that I entertain often, but for this wipeout I will make an exception.  I flicked zero usable shots in the yard that night and the following morning on the way to Denver we couldn't get any clear shots either. However, I can tell you that there was fresh paint in the yard, like literally it was still dripping when we got there.  BFREE lit up a whole panel and some one else painted turtles everywhere but didn't sign their name.
4.20.2012
Hangovers last forever at 5,000 feet.  Unfortunatly for me I brought one with me from New Jersey.  We had one hundred things to do before getting to the event space to set up but first and most important was stopping by Denver's own Like MInded Productions to pick up our merch.  If you have not yet heard of Like Minded you are seriously missing out.  John Lamb and Mike Ortiz are only capable of making you, your artwork, and your company shine bright.  Incredibowl did an outstanding job putting the event together which was no small task considering it was the official High Times VIP 420 Party and the pressure was on.  Lyfe was stationed outside in front of the venue with two custom built 8×8 canvases that began receiving color almost immediatley after being set up.  I must digress for a moment to thank Wedgle's Music and Loan for all their patience and Tylenol that put a temporary hold on the ice pick headache that had been burrowing its way into the base of my skull.  David Cho, Gamma, and Michael Ortiz right now all have custom painted drum heads hanging in the shop.  Go check them out and buy something.  Once we had everything set up and the artists underway, myself, Kev, and local Denver photographer Erin Devine made our way down to the park to meet up with another photographer and ledgendary head known only as the Int'l Smuggler.  The absolute scene in the park was almost too much to take in and sitting in my New Jersey office a week later I am still ill equipt to process everything that I saw going on.  Suffice it to say that our objective was to meet Smuggler at the Lava Rubber booth on the far side of the park in the shadow ot the Denver Post building.  We covieniently arrived at around 4:05pm leaving us just enough time to fully scope out the scene and begin flicking shots in preperation for 4:20 when as promised a cloud of smoke would rise from the masses and waft over the entire city.  The balcony of the Post was crammed with employees sporting cameras and binoculars like ornithologists lusting after a big year. Behind the booth was a gentleman who apparently after taking way too much had nestled in for a long nap in the grass.  Usually this type of thing would have zero effect on me but the thing that struck me as odd about the situation was the fact that he had both his shoes on and had his jacket zipped to the neck.  Also this gentleman was using a pillow that he seemed to have brought form his home, almost in preperation because he knew that at some point during the afternoon this would eventually happen.  Coupled along side the image of the sleepy gentleman was the stunning six foot blonde in the red bridesmaid dress with the fulll on up-do and spike heals who was smoking bowls with the tired gentleman's friends.  Upon her exit, she casually stepped over him like she was avoiding a minor obstacle on the sidewalk and walk off unphased.    And then at precisely twenty minutes after four in the afternoon the cloud began to rise.  A full on tempest of carbon smoke derived from the most humble to the most exotic of strains that are available today.  At first it hung low over the crowd and then as the wind picked up it rose ever so gently above our heads and up to the birds.  I couldn't help getting the feeling that something real was in fact happening here.  This may in fact be democracy at its finest.  A thin argument to say the least but still there is something all together ethereal about standing in a public space designed by the son and namesake of Frederick Law Olmsted and being present while it is actually being used to demonstrate demokratos.  I believe the line here should be, "far out, bong hits anyone?"
By the time we made our way back to City Hall through the droves of enthusiests Gamma and Ortiz were well underway toward completion.  There is nothing in my arsenal that could possibly describe what those two cats can do with paint.  This is one of those cliche cases where pictures absolutely speak louder than words.  At some point in early evening about the time that the Tylenol starting wearing off and the Fat Tires and serious Dub started beckoning me back to the bar an exceptionally well dressed woman approached our camp and introduced herself as Bianca Barnhill from High Times Magazine.  She presented us with opportunity to come and paint at the Medical Cup for the next two days.  Gamma, who specializes in photorealism had been painting a head shot of Bob Marley.  Our new mission as per Ms. Barnhill, should we choose to accept it was to produce another canvass the following day  but this time of Snoop that correalated to his upcoming album release titled Reincarnated.  Lyfe will always  accept a challenge.  This new development however meant that the music and carrousing would definately have to wait especially because we still had to make a stop at the Guerilla Garden to see in person some of the unbelievably stunning peices that Jolt and Omni were showing that night.  If you were lucky enough to be at the show and even luckier to walk with an original than you know of what I speak.  If not, you will view it at their website and feel bad for yourself.
4.21.2012
My eyes fluttered open.  There were three dogs sniffing my face.  Every morning I have ever woke up in Colorado there is always one thing that remains the same.  Dogs.  This morning just as the one before there were dogs.  Breathing, behaving like animals, knowing that I don't rest well at altitude, and waiting for me to open my eyes to see what I'll do next.  Dogs.  I have become my hangover.  I am resigned to it.  It will never go away.  The Cup was upon us.  After a brief detour to fix a busted battery cable on a friends Land Rover and another at Meininger's for paint and canvass and yet another at Like Minded Productions we were loading in our gear through the vendor's entrance at the Exdo Center.  As this was a sanctioned event there were no where near as many stripes of life as were found at the CCP rally the day before.  Most heads at this particular event were patients, caregivers, and industry profeesionals.  There were areas devoted to trade show, areas devoted to seminars and awareness, areas devoted to open space where people could gather to discuss the event, and the medical center which was devoted solely the consumption of all medicinal products contained on the premises.  It was in the Med Center that Incredibowl had their now famous and completely brilliant MilkShake Machine set up.  In the days of three finger lids in order to prepare a proper milk shake one needed only a sharpened pencil, a cardboard beer coaster, a frosty rootbeer mug, and nicely rolled Owl.  Pencil peirces beer coaster, coaster is placed on top of frosty mug, Owl is lit and shotgunned through the hole in to the mug.  Coaster is removed and giggling recipient "drinks" down the milk shake with an overwhelming swiftness.  Think of it as a dry bong hit.  Incredibowl has taken it upon themselves to create a machine that plugs into the wall and uses a series of induction coils and fans to produce the same effect.  You may ask why spend the money?  The benefit is your milk shake is avaiable at the push of a button, it is dispensed through a tap at the front of the machine making it the sickest party trick since drinking a pint of warm tequila through a crazy straw and their is no chemical residue from having to use a flame that relies on an accelerant.  Like I said, Brilliant.
4.22.2012
Dogs. Or more to the point this morning was only one dog.  My eyes fluttered open to California, the chocolate lab standing over me with her paw raised like she wanted a shake.  I raised my hand to comply and instead of shaking my hand she slapped me in the face and then turned tail and ran away.  Where in God's name was that Tylenol.  The remainder of the previous day went butter smooth. Gamma always commited to excellence produced a canvas that by now is on its way to LA as a gift to the iconoclast whose likeness it bears.  Lyfe and the whole team had an unbelievably productive weekened, my only regret was that I had to head back to NYC before the end of the festivities but Refused is back on tour and that is not something that is missed.  At the end of Saturday night when the heads beagn filing out and Lyfe could finally start outloading our paint, tools, and gear all of us wound up running into each other at the same time; John Lamb, Mike Ortiz, Kevin, Gamma, Ms. Barnhill, the swarthy pirate Smuggler, and myself.  As everyone was saying peace the question came up of what was going to happen next, where does this go from here?  I think it was Smuggler who so elegantly said, " Well shit, what about Amsterdam???"